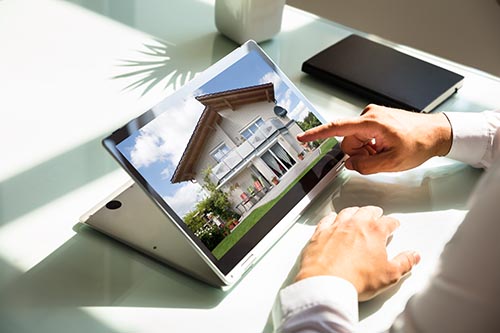 Evoke built apps are able to provide realtors and the real estate market in general with innovative ways of engaging with potential customers, managing operational processes and paperwork as well as portraying a modern efficient image to buyers and sellers alike. With Evoke you are able to easily create stand-alone apps (with their own database) or create mobile front-ends as an integrated part of an existing system. The apps can be used across all types of phones, tablets and desktops making them instantly accessible by all types of users (buyers, vendors and internal staff) no matter what type of device they use.

Buying, Selling, Viewing
Evoke built apps can take a prospective buyer (and the vendor) from the initial search for properties through to the final purchase or rental process. The apps can not only provide the automation, making the process far simpler and user friendly, but also keep all parties up-to-date with the current status.
Multiple Search and Select options on properties (listing, cardview, etc.)

360° Virtual Tour of properties

Appointment scheduling and booking

Engagement with your Customers

Correspondence Tracking




Deposit Payment processing (credit card, Stripe, Paypal, etc)

Management Information and control
Virtual tours are simple to set up and are a very useful way of allowing a prospective buyer to "walk around" a property, securely and without restriction. Add useful notes in each room to complete what a live real estate agent would say when showing people around.

Information Management
This new generation of real estate software is working to ease the pain of daily operational tasks. Real estate apps for agents can be specifically designed to save agents time and energy when dealing with repetitive, burdensome processes.
Evoke apps allow you to:
Manage extensive information distribution securely and efficiently.

Communicate with staff, in real time, with more general information (e.g. internal distribution, documents, files, letters, etc.)

Manage approvals

Capture digital signatures

Trace timelines

Work collaboratively with colleagues to complete processes or support other departments.

Location, Location, Location
Many apps in the real estate sector to take full advantage of Evokes map and location components, using tracking and the mix of analytical and graphical User Interfaces.
Information regarding local schools, shops, medical facilities, etc are all available through the map/location services.
Evoke's own
Component Library
of actions, over 100 different UI
Widgets
and standalone
Components
(including Web services, Google Maps, 360° images and hot-spotting, embedded videos, Chatbots, etc.) combined with its options for unlimited customisation means that you can have the best of both worlds in that you can create both analytical and graphical elements of the same app.
You can also establish the view and functions according to the type/management position of the authorised user, providing the right UI for the right person at different points of use.

Security
Extensive security allows you and your customers to be secure in the provision of services and the protection of data. You decide on the level of security dependent on the type of apps you wish to introduce. For example, marketing apps with search and select capabilities may be generally available to the public whereas only authorised genuine prospective/vetted customers may be able to log in and see specific areas of apps containing more sensitive information.
---

The best place to see a demonstration of some of the powerful Evoke functions used in the Real Estate market sector when they have built apps is by using the Evoke Example App.