Evoke Services and Support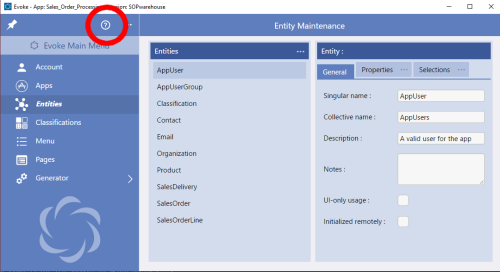 BlueFinity provides Evoke clients with an unrivalled package of support which is designed to take the new Evoke user from the initial installation of the Evoke Developer through to the successful deployment of their first live app. This extends from User Training and assistance with your own systems environment through to on-going Q & A sessions and access to skilled personnel to review and help you with the app you have created, all at no additional cost!
Product Support
When Evoke users login to Evoke they have access to the Evoke product support (Customer Help) website. This is accessed via the ? that appears on each Evoke screen (see image right).
The Evoke Customer Help area provides comprehensive reference material, support information and training to user of Evoke, complementing the live Evoke support team that all users have access to. The Customer help area includes:
Getting Started Section - with installation instructions, important information specific to individual environments, guided tutorials, information about the demonstration app provided to users.

Help Videos - short (5-8 minute) "how to"/Explanation videos on all parts of the use of Evoke

Online User Guide - a comprehensive, interactive user guide containing both reference information for Evoke and "how to" sections for users

Documentations - in addition to the Online User Guide, a glossary of terms, summaries of the Evoke Click Actions, Widgets, Adaptations and Grid Filter Operators are included, together with some traditional product manuals.

Other Information - the customer help section provides contact information for the Evoke support team, a copy of the product license agreement, etc.
Support and Maintenance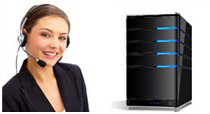 BlueFinity's Product Support team are available across multiple time zones to provide support for the company's product range. Staffed by knowledgeable personnel, the group will service questions on set-up, usage and product issues to ensure high quality user experience.


Systems Design and Development
Utilize skilled development professionals with experience of all levels of development life cycles, including design and development within centralized, client/server and mobile applications, and practised in structured methodologies and techniques.

Consulting
Consultants, experienced in design, development, technical design and database technology are available to fully assist, support and supplement in house design and development teams in all aspects of their work.

Technical advice and strategies
Experienced staff are able to provide advice on software design, technology, integration and database structures and access. High levels of expertise in Microsoft and MultiValue environments including IDEs (Visual Studio, Xamarin), .NET, SQL etc.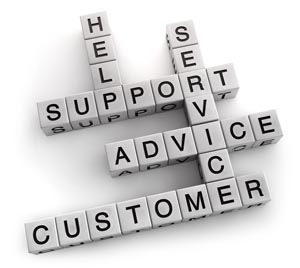 Training and mentoring
BlueFinity are able to provide formal training in the use, implementation and design of projects related to BlueFinity products. With regards Evoke's app design and deployment, the company is also able to conduct on-line guide and mentoring programmes to assist the in-house group with all aspects of its design, projects and use.


Testing, Implementation & Roll Out
High level testing and implementation support can be provided for both application and technical matters. Advice can be made available to support all parts of implementation including parallel running, quality assurance and roll out strategies.

Project Management Services
For larger enterprise based projects BlueFinity is able to provide or assist with professional Project Planning and Management.